Nature × DRUM TAO
The ultimate and unprecedented comprehensive entertainment: Aso Kuju National Park × DRUM TAO.

This place, where you can feel the breath of the earth, serves as the source of inspiration for DRUM TAO, shaping both their spirit and physique.
Let it ignite their creative drive and feel the power of the earth that serves as the source of TAO's music.
Open-air Theater TAO-no-Oka
Altitude 1,036m "Skyward Stage"
Open-air Theater TAO-no-Oka "Skyward Stage"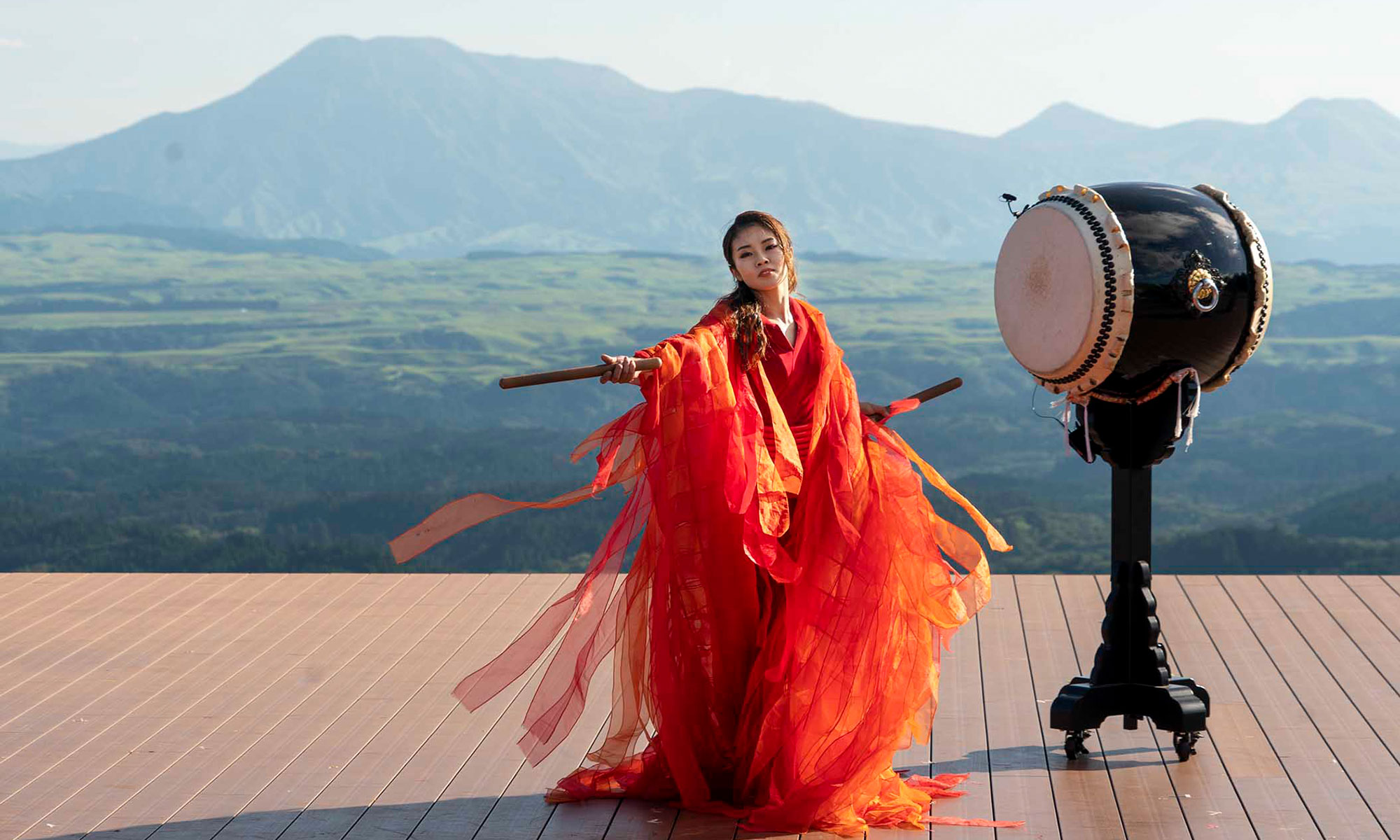 The effect of "controlled burning," said to have been practiced for a thousand years, has resulted in an endlessly beautiful grassland that stretches as far as the eye can see, with hardly any structures visible all the way to the Aso Mountains, which are about 40 kilometers away...
In such a picturesque setting, there is a space where you can enjoy live performances by the world-renowned taiko drumming entertainment group "DRUM TAO."
The "Skyward Stage," created to showcase the natural environment in its purest form, features neither a roof nor walls. It offers a unique and special experience that cannot be found anywhere else, allowing you to connect with the surroundings in a truly remarkable way.
Schedule
2023 season: Until December 10th, held on Fridays, Saturdays, Sundays, and Mondays
Live performance: 14:00- (45 minutes)
* Pets are not allowed.
* Bringing in food and drink is prohibited.
* Due to the high altitude, there is a huge difference in temperature. Please bring a jacket.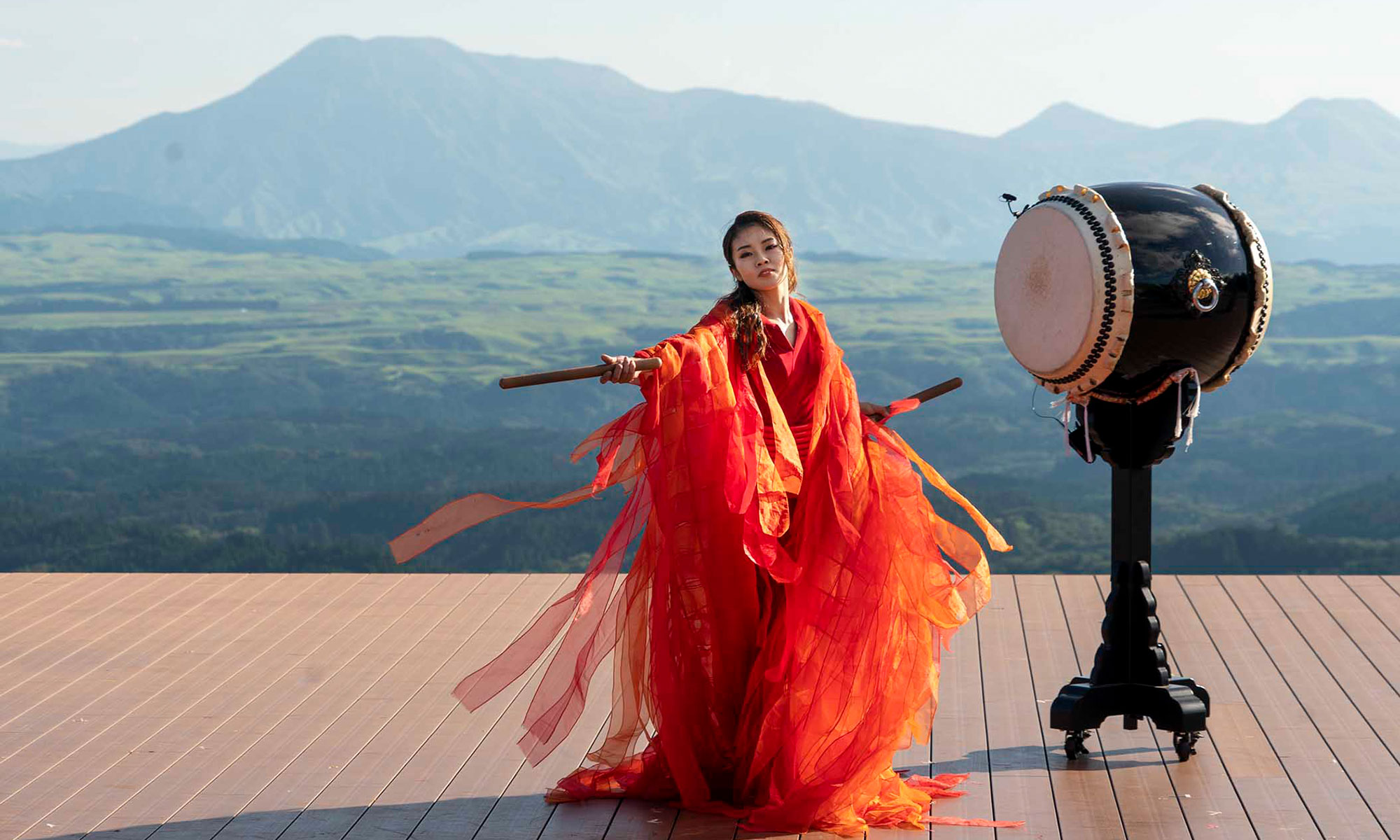 Facility introduction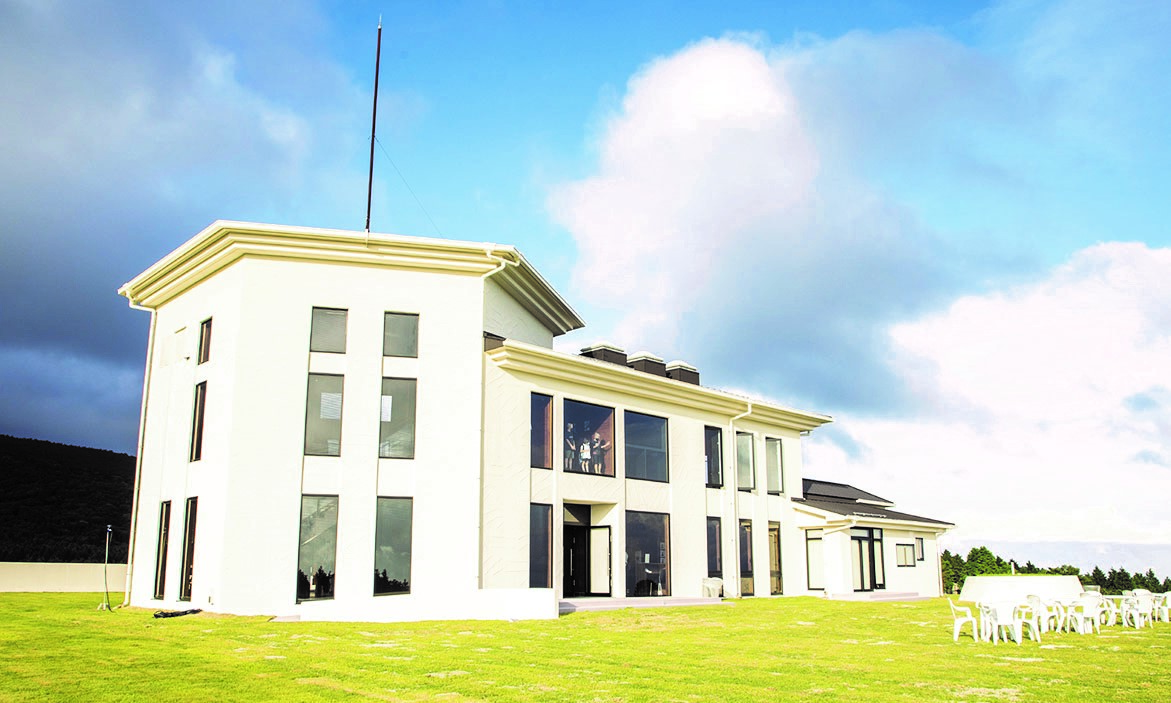 TAO HOUSE
Everything about DRUM TAO is right here.
Facilities for everyone to enjoy, including costume exhibitions designed by Junco Koshino for DRUM TAO, TAO's archival displays, a merchandise shop, café, bar, and more, welcoming both those who have never seen DRUM TAO before.
While gazing at the magnificent natural surroundings, you can savor the drinks and food purchased within the facility. Dining with the breathtaking view in front of you is truly exquisite, filling both your heart and stomach.
Opening Hours
11:00~17:00

* During the summer season, opening hours may change to accommodate live performances.

* Last admission is 30 minutes before closing.

Admission Fee
Adults (13 years and above) 500 JPY / Children (4 years and above) 300 JPY

* The opening days of TAO HOUSE are in accordance with the live performance schedule.

* Infants and toddlers are free (when accompanied by an adult).

* Wheelchair users are free (accompanying assistants pay regular fees).
CAFE

Exquisite Food Curated by Members.

You can savor delectable seasonal dishes and crafted drinks produced by our members. We make use of locally sourced ingredients to offer a diverse range of foods.

BAR

We also offer non-alcoholic options, so those arriving by car can enjoy themselves with peace of mind.

* The BAR operates on a limited-time basis, such as during special events.

THEATER

Introducing DRUM TAO with powerful sound and visuals.

Even if you haven't seen DRUM TAO before, you can experience the atmosphere of their performances. Don't miss the regularly updated videos.

ARTIST SHOP
 

We also offer exclusive items that you can't find anywhere else.

We sell DRUM TAO's official merchandise and TAO Hill exclusive goods.
Under the stairs next to the SHOP, we have displayed members' cherished photos. You can enjoy the TAO-filled SHOP no matter where you look.

COSTUMES EXHIBITION

Displaying costumes created by designer Junco Koshino.

Since 2012, the world-renowned designer Junco Koshino has been creating costumes for TAO. On the 2nd floor of TAO HOUSE, you can see costumes actually used on TAO's stage, designed by Junco Koshino.




The space design for the costume exhibition is crafted by Yoriyuki Suzuki, expressing the unique and unparalleled world of 'Junco Koshino'.

HALL
 

At times, there may also be special performances...

An indoor hall surrounded by 12 monitors. You can also enjoy video displays.




For a limited time, we are hosting indoor live performances at 'CLUB TAO'."
The indoor live experience, which can be enjoyed from an extremely close proximity, is limited to 33 seats. The next scheduled event is planned for April 2024.

ROOFTOP TERRACE
 

Three directions offer breathtaking views.

A second-floor terrace surrounded by stunning views in three directions. Enjoy your drinks and food purchased from the café and bar.